Orchestra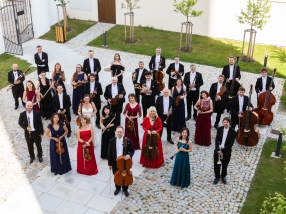 The South Czech Philharmonic, based in Ceske Budejovice (Budweis), was founded in 1981; its original name was The South Bohemian State Orchestra. At present it comprises of 39 artists and remains the only professional philharmonic orchestra in the South Bohemian region.
Origins of the orchestra are associated with a Czech conductor Jaroslav Vodnansky; subsequently, the position of Chief Conductor was held by Ondrej Kukal, Bretislav Novotny, Jaroslav Krcek, Stanislav Vavrinek and Jan Talich. The current Chief Conductor, Miran Vaupotić, has been leading the orchestra since 2021.
Besides interpreting the music of classical composers and pieces appropriate for chambre orchestras and smaller concert halls, the Philharmonic is dedicating increasing attention to the contemporary trend of interlinking genres and discovering new perspectives of both interpretation and presentation of music, and systematically strives to enhance its qualities. The majority of SCP members are young, ambitious, skillful and promising musicians, appreciating any opportunity to cooperate with other leading conductors and soloists.
At present, the South Czech Philharmonic aspires to maintain the interest of existing attenders, while focusing on a younger audience and wider public and thus attracting those South Bohemians who have so far been more or less indifferent to classical music. There can be no doubt that the orchestra has a sufficient capacity, enthusiasm, and the right direction to achieve all of that.
Chief Conductor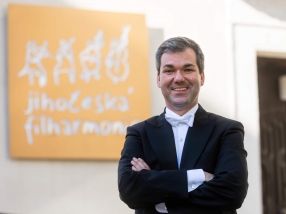 Acclaimed as 'dynamic and knowledgeable' by the Buenos Aires Herald, Croatian conductor Miran Vaupotic has worked with eminent orchestras including the London Symphony Orchestra, the Russian National Orchestra, the St. Petersburg State Symphony Orchestra, the Slovak Radio Symphony Orchestra, the Budapest Symphony Orchestra MÁV, Orchestre de Chambre de Geneve, the Cairo Symphony Orchestra, Orquesta Sinfónica Nacional Argentina and others, performing in major halls around the globe, such as Carnegie Hall, Wiener Musikverein, Berliner Philharmonie, Rudolfinum, Smetana Hall, Victoria Hall, Forbidden City Concert Hall, Shanghai Oriental Art Center, Tchaikovsky Hall, International House of Music, CBC Glenn Gould Studio etc.
A strong advocate for new music, Vaupotic has premiered many pieces including Carlos Franzetti's Clarinet Concerto,Roberto Di Marino's Guitar Concerto, Primous Fountain's Symphony No. 2 commissioned by 28-time Grammy Award-winning American producer Quincy Jones, and most recently The Wild Symphony composed by 1 New York Times bestselling author Dan Brown (The Da Vinci Code).
He also premiered several operas including Waundell Saavedra's Sweet Dreams, John Rose's Rumpelstiltskin directed by Tyler Bunch (The Muppets) at The National Opera America Center in New York City, and Jelka by the late Croatian composer Blagoje Bersa, bringing the piece to life a century after the influential composer's passing.
As a recording artist Vaupotic released albums with Naxos, Classic Concert Records and Navona Records. In 2015 he was honored with the Gold Medal at the Global Music Awards in California (USA).
Miran Vaupotic won First Prize and special award at the 12th International Aram Khachaturian Conducting Competition in Yerevan, Armenia. Today, he is the Chief Conductor of the Croatian Chamber Orchestra (since 2016), Artistic Director of the Piazzolla Music Competition, Project Director at PARMA Recordings and newly appointed Chief Conductor of the South Czech Philharmonic.
Instrument groups
---